Public Archaeology places communities first
CHC is committed to the engagement and education of local communities and general public, which are at heart of all our projects. We believe in data presentation in accessible format, through public lectures and open publications to site visits, and we have long-standing experience in public engagement. 
Heritage and Archaeology are well placed for easy crossover with the story telling and artistic narratives that are key to community building and are as relevant for school children as for adults. Partnership with artists, community leaders, natural environment specialists, farmers, and landowners allows for a special relationship to be built with and within the community, leading to a great sense of awareness and care for the place and the environment we inhabit.
---
Case Studies
Project:  The Lost Landscapes and Monument projects (2011-2012)
Client: Peter Potter Gallery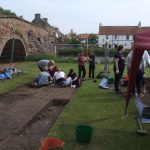 The Lost Landscapes/Monuments Project, consisted of a series of four exhibitions and associated residencies, events and workshops, integrated into ongoing archaeological research partnerships in the region. This project was a cumulative exploration of the relevance of a heritage monument to contemporary art, creating original interpretations of monumentality for the 21st century, and engaging the public with innovative accessible archaeology and art events.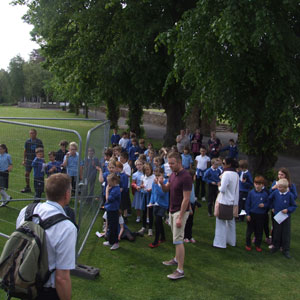 The 4 diverse projects carried out as part of the programme were coherent in offering alternative views of contemporary art and archaeology as exceedingly relevant, as well as empowering, for both local communities and visitors alike. The three archaeology projects were all directed by David Connolly of CHC and included two open access excavations and a church bullet hole survey. All three projects received an unparalleled number of visitors and participants—Nungate dig project, an excavation of former washhouse, saw participation of over 300 school children and 100 members of the public, including passers-by; Bothwell's Castle excavation, designed to located and evaluate a 15th century townhouse, received 400 school children and was visited by over 1500 members of the public; Church of St Mary's in Haddington Bullet Hole survey, with participation of Young archaeologists club (YAC) and other volunteers, collected data on the hundreds of shot holes on the church walls, representing vivid reminders of the 'rough wooing' conflict between Scotland and England. Additionally, the Herring Road project, was both an examination of the historic route and its place in local folklore as well as a successful performance art activity, as groups traversed the 30 miles from Dunbar to Lauder. The scheme was further enhanced by an exhibition by local artist Nicky Bird, as part of art and archaeology installation in the Peter Potter Gallery.
Links and readings

---
Project:  Whiteadder Water Heritage Project Scoping (2016)
Client:  Scottish Borders Council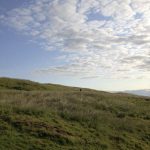 A large-scale  scoping exercise designed to evaluate the potential for community-based heritage project(s) within the area of Whiteadder Water, as proposed by Chris Bowles, formerly the Scottish Borders Council archaeologist. The scheme was to be largely financed from the area's windfarm construction schemes and envisaged as means to offset the windfarms' visual and related impacts on local heritage assets within the area of the Whiteadder Water, by way of funding locally based heritage community projects. The scoping carried out by CHC included desk-based research; field walk survey and dialogues with local societies, communities, individuals, landowners and varied professional practitioners. The deliverable comprised a fully informed, comprehensive and costed list of possible community heritage projects/schemes for the area based on requirements and benefits of both local communities and heritage assets. Many of these proposed projects have since been carried out.
Connolly, D & H Kdolska 2016. Whiteadder Water Heritage Project. Scoping Report for the Scottish Borders Council.
---
Project: Sir John de Graham's Castle and Kirk O'Muir Community Project (2017)
Client: Valley Renewables Group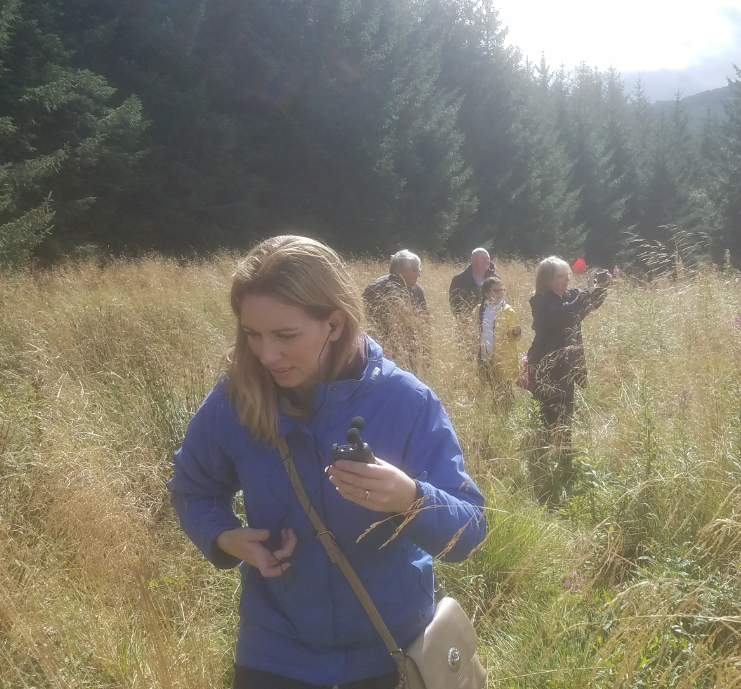 A Heritage Lottery funded community project, involving volunteers from Denny and Dunipace Heritage Society and pupils from local Primary Schools was carried out at the sites of Sir John de Graham's Castle and Kirk o' Muir cemetery, Carron Valley, Scotland. The project, carried out on behalf of the Valley Renewables Group (VRG), included metal detecting survey, aerial survey, excavation and gravestone survey as well as production of an audio and soundscape diary to inform further interpretation and enhance the project's outcome. All excavation works, metal detecting and aerial survey works were directed by Connolly Heritage Consultancy (CHC) and Skyscape survey.  
Links and readings
Connolly, D. & H. Kdolska 2017. Sir John de Graham's Castle and Kirk O' Muir Community Project. Haddington: Connolly Heritage Consultancy. https://doi.org/10.5284/1050337.
---