CHC is a multi disciplinary Heritage Consultancy and Archaeological Contractor, with full membership of the Chartered Institute of Archaeologists (CIfA), meaning we work to high ethical and professional standards, which are governed by strict and enforceable codes of conduct. From large capital projects through to small house plot evaluations, from country wide surveys and World Heritage Site Strategies to historic building records of a farm, we have the experience and professional connections to bring your project to a successful conclusion. 

David Connolly, Director
MCIfA (current Chair of Scottish Group CIfA); FSAScot; Member of Historic Environment Forum, Member of the Archaeology Industry Work Group, Chair of the Trustees of the Enabled Archaeology Foundation
David has a long-standing career in the profession, having worked in archaeology since 1981, initially as a digger and later draughtsmen and surveyor. He is widely acknowledged for his modernising methods, being one of the pioneers of buildings archaeology and one of the first within the heritage profession to suggest the mutually beneficial possibilities of co-operation between detectorists and archaeologists. Within the commercial archaeology circles, he is well regarded for his championing of archaeologists' work and equality rights, as well as supporting a number of charitable schemes, such as Enabled Group or Operations Nightingale. 
Before devoting all his attention to consultancy (CHC Heritage) and the running of BAJR (established 1999), the largest archaeology resource and advertising company in the UK and beyond, David has held a number of managerial and consultant positions, such as consultant for a number of Capital Projects and a heritage advisor with TPS Planning. He also acted as a consultant to the National Trust for Scotland in relation to long term management issues and interpretation potential on a number of estates in care–including Newhailes, Marr Lodge and Canna Island and provided site management advice for Historic Environment Scotland (HER) regarding erosional issues at hillfort sites in Southern Scotland. As the project manager for the Addyman Associates (2000-2003), David co-ordinated teams of heritage professionals working on varied projects, notably including the World Heritage Site of Edinburgh Cowgate, a, in the aftermath of the devastating fire in 2002, bringing the project to a successful completion in front of an international audience.
In 2003, David joined East Lothian Council for 5 years, as an Assistant archaeologist for East Lothian and Planning archaeologist (Development Control Archaeologist) for Midlothian and has contributed to a number of publicly beneficial projects, including development of Sites and Monuments Tourist Maps for the region while providing advice on rural stewardship schemes, and developments.
Since 2008, David has devoted all his attention to running of BAJR and its fieldwork arm, CHC Heritage, carrying out or participating in a varied UK commercial and research/training projects (e.g. Rampart Scotland). He recently added Aerial Drone Survey to his portfolio of skills, becoming a professional certified pilot in 2016 (Skyscape Survey). David is also the creator of the internationally recognized Archaeology Skills Passport system, now used universally in the UK, Germany, Australia and Italy, with further countries creating translations at present. He was awarded the Archaeology Training Award in 2017 (by the Archaeology Training Forum/CIfA) in recognition of his training in archaeology fieldwork and research skills.
David regularly lectures on archaeology skills and employment at UK Universities and on varied archaeology topics to local societies and wider public. He is a regular contributor and presenter on BBC Radio and acts as a consultant for archaeology articles.
---
World archaeology engagement
David's involvement with world archaeology started in his childhood, when, barely 13 years old, he travelled to Dordogne in France in 1970s, to take part in excavations of a Palaeolithic site near Les Eyzies.  Since then, he has participated in a number of world-wide projects, particularly in the Middle and Near East, including co-operation with the Department of Antiquities of Jordan to produce a workable integrated heritage sites management system and with Prof David Kennedy (University of Western Australia) to create a master plan GIS survey of Gerasa City, as part of the long term goal for the World Heritage Site application.
His enduring involvement with the archaeology and heritage of UAE started in Abu Dhabi in early 1990s,  helping to develop field survey methodologies for the Abu Dhabi Archaeological Island Survey (ADIAS), on behalf of the late UAE President Sheikh Zayed bin Sultan Al Nahyan. David has continued his engagement with Middle Eastern archaeology in the Emirates of Sharjah, helping on excavations of internationally important site of Mleiha, and in Ras al-Khaimah, including participation in Julfar excavations. While there, David and fellow British archaeologists, Dr Derek Kennet and Fiona Baker, undertook the first country-wide survey of Ras al-Khaimah's  iconic Towers, resulting in a gazetteer of these important heritage monuments.  
Since 2015, David has directed a number of projects in Ras al-Khaimah on behalf of the Department of Antiquities and Museums of Ras al-Khaimah (DAM), focused on historic buildings surveys, including the heritage village of Al Jazeera al-Hamra or historical and archaeological assessment of the National Museum (Fort) of Ras al-Khaimah, as well as providing methodology training for the archaeology department staff. Together with his colleague, Hana Kdolska, David has instigated two further projects in the Ras al-Khaimah Emirate– the first focused on the country-wide survey of the traditional architecture (Traditional Architecture of RAK); the second consisting of a combined rescue/research survey of the Shimal Plain Palm Gardens (SPPG).
---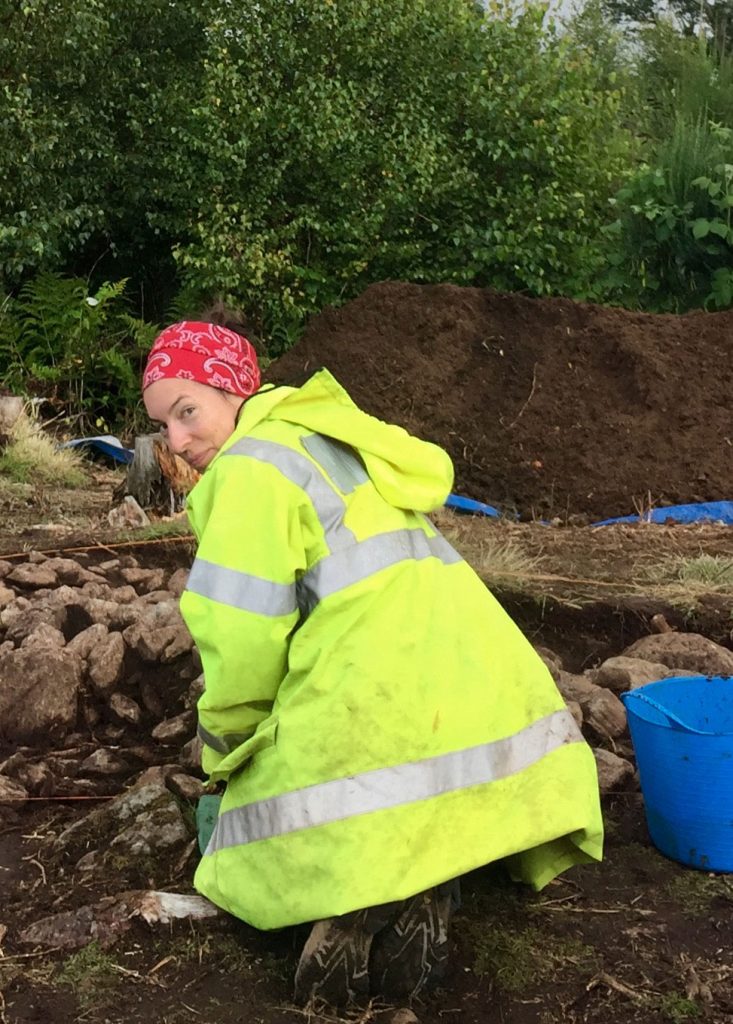 Hana Kdolska (MA, MSc), Director of Research 
Hana graduated with first class honours in Archaeology in 2009 and subsequently completed postgraduate Research Masters (MSc) in 2012, both awarded by the University of Edinburgh. Throughout her studies and after graduation Hana has participated in a number of research and commercial projects, initially as a digger and site assistant and later as archaeology supervisor and consultant, gaining invaluable archaeology skills in the process.
Through her continuing involvement, initially as a trainee and later as supervisor, in research projects, such as Hillforts of Strathdon and Rampart Scotland, Hana has been able to pursue her long-standing interest in prehistoric and later fortifications, as well as developing archaeology training skills.
Hana has worked for a number of well-established commercial archaeology companies in the UK, such as AOC Ltd or CFA Ltd, developing further archaeology and site management skills, before becoming an independent consultant in 2016 and BAJR/CHC co-director in 2020. Through co-operation with David Connolly, Hana has been engaged in a number of wide-ranging archaeological projects in the UK and abroad, working as a Surveyor, Buildings Archaeologist and Researcher.
Since 2015, Hana has participated with David on number of archaeological projects in the Emirate of Ras al Khaimah (UAE), developing an immense knowledge of the history and archaeology of the region and the wider Middle East. Notable projects carried out on behalf of the Department of Antiquities and Museums of Ras al-Khaimah (DAM) included buildings survey of the abandoned coastal village of Al Jazeera al-Hamra or historical and archaeological assessment of the National Museum (fort) of Ras al-Khaimah. In 2018, Hana and David initiated and co-directed two further (ongoing) projects in Ras al-Khaimah– the Traditional Architecture of RAK (TradArch),  a country-wide survey of the traditional architecture and Shimal Plain Palm Gardens (SPPG), a combined rescue/research survey of the area. At the same time, Hana and David have also trained a number of local archaeologists and DAM employees in buildings recording and survey techniques and have advised on a number of heritage schemes in the country.